Pro-life organizations are opposing the abolition of abortion. If this sentence shocks you, you're not alone. This isn't hyperbole. Nor is it an isolated incident. Major state and national pro-life organizations, lobbyists, and "pro-life endorsed" Republican politicians have rallied against both the abolition and criminalization of abortion on numerous occasions. The pro-life industry is not interested in ending abortion.
Note: Pro-Life industry. We want to make a contrast between pro-life advocates, and, the lobbyists, leaders, and politicians who have created a political industry out of continually compromising on baby murder. The former wants to see abortion end, the latter wants their coffers filled. The pro-life industry operates on a strategy of deliberate and intentional failure rebranded as victories.
These "victories" (failures) are then exploited as fundraising opportunities. The efforts of well-meaning pro-life advocates are exhausted on pass legislation which protects abortion under the guise of banning it.
If you're not familiar, in this past article, we explain why we identify as abortion abolitionists and how it differs from pro-life.
The laws in this article reflect those relevant at the time of writing and do not reflect changes since then. The point remains valid without a revision.
Abortion is still legal in all states
Only a few states have criminalized the murder of a preborn child. Even fewer have made it a crime for the mother to kill her preborn child. In fact, in a previous article, we pointed out the shocking revelation of how the pro-life industry has told state legislators to not criminalize abortion.
This may come as a surprise to anti-abortion advocates who, for decades, have been told overturning of Roe V. Wade was essentially the same as ending abortion. It's easy to see how one could think this, as for most of the last five decades, reversing Roe v. Wade was the single greatest focus of the pro-life movement. Which only makes the next point even more bewildering.
Pro-life Abortion 'bans' protect abortion 'rights'
What Dobbs v. Jackson Women's Health (the decision which reversed Roe) did was return the issue of abortion back to the states. We talk a little bit about it here. Each state has its own laws. State abortion bans enacted since Roe almost universally share a single trait: they legalize abortion.
If an abortion 'ban' legalizing abortion sounds strange to you — That's the point. The same doublespeak is seen in the costlier healthcare of the "Affordable Care Act" or higher inflation of the "Inflation Reduction Act." The name obfuscates the reality of the law.
How abortion bans protect abortion
Most abortion bans operate on a similar principle: prohibit abortions based on subjective cutoffs. Why? Because state politicians are cowards, unwilling to upset some of their voters or face media backlash by abolishing abortion outright.
When abortion is banned by qualifiers like age of development, a state is making two statements:
It is prohibited — or not okay — to kill babies after a certain stage of development, and,
It is permitted — or okay — to kill babies before a certain stage of development.
Abortion bans, by their very nature, include enactment of both a ban on abortion and also legalization of all the abortions it doesn't ban.
Florida's 15-week abortion ban: A case study
In 2022, Gov. Ron DeSantis signed Florida House Bill 5 (2022). House Bill 5 was heralded as a 15-week abortion ban by the pro-life industry. Among some of the changes, HB 5 adjusted Florida's existing ban down from the "Third Trimester" to "15 Weeks."

However, all abortions before 15 weeks remained legal as Florida Statute § 390.011(3) remained unchanged:
CONSENTS REQUIRED.—A termination of pregnancy may not be performed or induced except with the voluntary and informed written consent of the pregnant woman or, in the case of a mental incompetent, the voluntary and informed written consent of her court-appointed guardian.

Florida Statute 390.0111(3), emphasis added
Gov. DeSantis could have abolished abortion. Instead, DeSantis passed a law protecting abortion. Pro-life news websites celebrated it as a victory.
Cost of regarding Roe over Life
Florida is just an example. Almost every abortion ban, heartbeat bill, or other incremental approach to regulating abortion includes—by necessity—the legalization of some abortions.
Before the Roe v. Wade opinion was given, many states banned abortion outright. Under the false assumption the US Supreme Court could invalidate state laws, the states stopped enforcing their lawful prohibitions of abortion. As soon as states stopped recognizing Roe, they once again enforced their own laws. Surprising to none of us who have been sounding the warning for years, abortion remains legal in the most "pro-life" states because of the lobbying of the pro-life industry.
As Dobbs vs. Jackson Women's Health demonstrated: The Supreme Court was wrong. Roe was unconstitutional. States bowed to the federal court for five decades at the cost of over 65 million dead babies.
The founding assertion of Nullify Abortion was this: Roe V. Wade was not law. It was not legally binding on the states. This is why Democrats, not just post-Roe, but during Roe desperately desired federal legislation codifying abortion.
The Supreme Court was wrong. Roe was unconstitutional. States bowed to the federal court for five decades at the cost of over 65 million dead babies.
Abortion stood—and continues to stand—because Americans want the liberty to kill their babies—Including large portions of the Republican party. The GOP gives lip service to the pro-life cause for the lucrative endorsements and donations, as well as the votes from the lemming-like voters who need only to see a "Right to Life" endorsement to vote for a candidate — actual results be damned.
Abortion bans are intended to fail
Make no mistake: The pro-life industry wrote the laws, the pro-life industry introduced the laws, the pro-life industry lobbied the laws, the pro-life industry rallied support for the laws, and the pro-life industry encouraged you to vote for these laws as well as for the politicians who backed them. The outcome was intended from the beginning. It wasn't an accident.
The media claiming to represent pro-life, Christian, and conservative values is complicit. Either they were grossly negligent by not investigating the laws or they knew the truth but said nothing. Either is inexcusable.
For nine years, Nullify Abortion has critiqued laws and explained them in plain English. We've sounded the alarm while they've been peddled by the pro-life hucksters. We do this as volunteers with no budget supporting our organization out of our own pocket.
These media organizations are operating on five, six, or even seven figure budgets. Why aren't they telling you the bills they're encouraging you to support will legalize abortion?
Abortion hasn't lasted five decades because of Roe v. Wade. Abortion has lasted five decades because the pro-life industry needs to grease its machine. As with the errant healthcare industry which treats symptoms instead of curing illnesses, the pro-life industry refuses to take the necessary actions to end abortion so it may continue to justify its existence.
God can strike a straight line with a crooked stick, but it doesn't mean we intentionally choose the crooked stick. It doesn't honor God to compromise the dignity and value of children in the name of political pragmatism. We praise God for every baby saved with every imperfect law. But it doesn't mean we rally around laws which are less than the abolition of abortion.
The argument we're "doing the best we can" is a copout for politicians and lobbyists who don't want to risk political fallout for standing for something controversial. To argue against trying to abolish abortion is to subvert the foundational purpose of the cause: to save babies from destruction.
The pro-life industry, and the movement as a whole, have adopted the stance, "if it's not a 100% failure it's not a loss." This deluded optimism may pass in video or board games, but in the real battle for the lives of little babies it cannot be our standard for victory. The pro-life movement mourn the passage of laws which legalize abortions — not celebrate them.
Pro-lifers shooting abolitionists in the back
The evidence we can't abolish abortion is: pro-lifers saying we can't abolish abortion. Not that we can't, but that those who should be our allies are standing in our way. The pro-life industry has chosen to make abolishing abortion a bigger enemy than abortion.
The pro-life industry and its leaders encourage pro-lifers to, figuratively, shoot in the back any who attempt or even think to try abolishing abortion. The concern isn't about the babies they negotiate and compromise away, but about protecting the existing regulations – Even if doing away with those regulations means doing away with all abortion.
These aren't unfounded accusations. In March of 2020, the vice president of National Right to Life publicly opposed Oklahoma's attempt to abolish abortion. The GOP put their tails between their legs and wouldn't support the bill. Instead, we got this abomination. In 2021, a Texas State Representative was poised to introduce an amendment to an anti-abortion bill on the House floor in Texas. Per Abolish Abortion Texas, Texas Right to Life rallied their supporters, the media, and GOP against the amendment. The same thing happened in Louisiana, that time it was Louisiana Right to Life which came out swinging.
These are just three examples among many more. This isn't a matter of whether it's realistic. These have been legitimate and realistic opportunities to abolish abortion. The pro-life industry does not want abortion abolished and will use your donations to fight any attempt to end abortion.
What victory looks like: abolition
Abolition of abortion is the only way to victory. We cannot win against abortion until abortion is abolished. As with slavery abolition, abortion abolition will require the hard work and dedication of a diverse movement of people.
Achieving victory will require coordinated grassroots effort. It is not a responsibility which can be passed on to a larger, remote organization. It is a job which largely cannot be done by simply writing a check — though checks will still need to be written.
Abolishing abortion will require organizations, churches, families, and individuals to become educated and involved in the political process. They will need to sacrifice and invest time, money, and effort into what is happening in their state.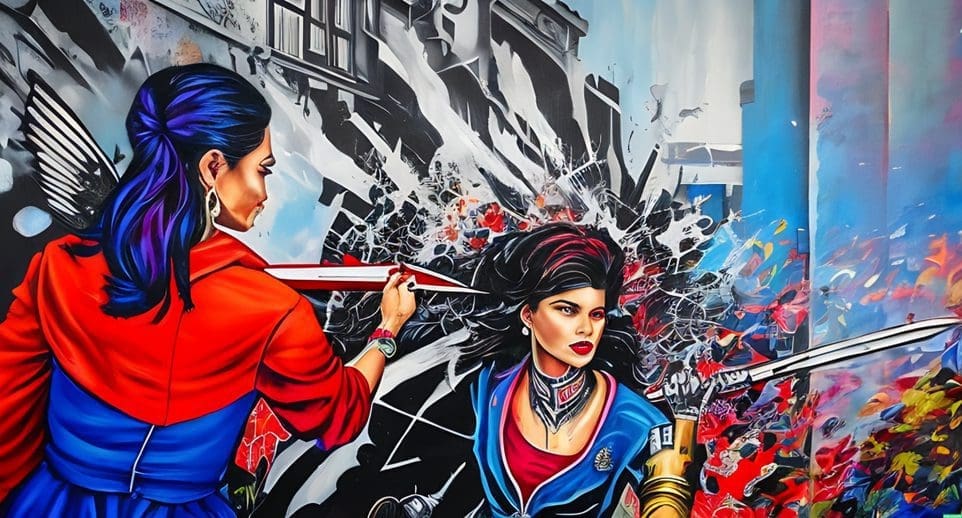 Victory will include making calls and writing letters. Going door to door. Spreading the word at your church and in your social circles. It won't be achievable sitting behind a computer or tapping away at a phone. It will require boots on the ground. You will need to challenge those who try to "shoot us in the back." You will need to stand firm against naysayers and opposition alike.
Achieving victory is hard, but when it means saving all the babies, it will be immensely rewarding.
We must not allow failures to be redefined as victories. We must not lose sight of what, and who, is at stake. Little children are being murdered. Their lives have value and meaning. We must seek justice for the preborn. We must fight for victory.
Featured image: Street Art photos generated by Gab.com/AI for Nullify Abortion
March for Life outside US Supreme Court by Matthew Semrau Copyright © 2014. All Rights Reserved.
Last edited 2023-04-13 – Updated graphics